English Black Gun Flint - from Brandon, England
$1.50 each or $16.50 per dozen
1/2" for pistols (1/2" wide x approx 3/4" long)
5/8" for Siler locks (5/8" wide x approx 3/4" long)
3/4" for many rifles (3/4" wide x approx 7/8" long)
7/8" for some fowlers and Jaeger rifles (7/8" wide x approx 1" long)
8/8" for Brown Bess or Charleville muskets (1" wide x approx 1" long)
9/8" for Brown Bess muskets (9/8" wide x approx 1 1/8" long)

Lead Musket Flint Pads - 1" x 2" with hole to allow for jaw screw. For use with 8/8" or 9/8" flints. Same as those found at Fort Stanwix, New York City, Hudson Highlands, and Brandywine. $.40 each or 3 for $1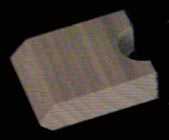 Wooden Musket Flint (also known as a Snapper or Driver) for Brown Bess or Charleville $.50 each
With regard to flints, Cuthbertson writes "The flints should always be screwed in firm, between a thin piece of lead, it having a more certain hold, than leather, or any other contrivance.... a Soldier ought to have...a small bit of wood, shaped like a flint, to use at exercise, in practicing the firing motions..."

Cartridge Former - choice of cherry or walnut. $4.00 each
5/8" Hardwood dowel with one end hollowed out to accept the ball when rolling cartridges or for tucking in the end of cartridge paper when rolling blanks, as specified by Timothy Pickering in An Easy Plan of Discipline for a Militia (1770). He writes, "A piece of wood about six inches long is to be made round so as to fit exactly the size of the ball; this is called a former: make one end of it hollow to receive a part of the ball...". From Cuthbertson "...that all the cartridges may be exactly proportioned to the bore of the firelocks, a sufficient number of wooden formers, of a proper size, must likewise be provided."
The cartridge must fit snug in the block. Countless times I've found rounds on the battlefield that look as though they were rolled on a pencil or Sharpie pen former. These undersized tubes will fall out of your pouch when you are running or falling to the ground. The proper paper tube cartridge must have some fricton between it and the wood block. These formers will make rounds (live or blank) for Charleville or Brown Bess.

Cartridge Paper - The safety regulations for many groups require the blank rounds be properly made. That means a good paper, no staples, no more than 125 grains of powder, and the round fits well in the block. A good paper easily tears with the teeth, but doesn't fall apart when the cartridge is extracted from the block or doesn't stay folded in shape. I've seen people using common newspaper which is unsightly; white copy machine paper which doesn't tear easily; and brown restroom paper towels which falls apart. The best paper I've found is artists newsprint. Instructions on how to roll a blank cartridge are on the 40th Foot website. A pad of 100 sheets, cut to the proportions specified by Timothy Pickering in his 1775 work An Easy Plan of Discipline for a Militia. $3.00

British Musket Tool - copied from original found in Camden, S.C. (c.1780). Two screwdriver blades and tip of the "punch" end is Italian threaded to hold worm. About 3½" tall. $15.00 each

Provincial Musket Tool - copied from original found at Seven Years War (1760's) site in the N.Y. Champlain Valley. It might be British and/or Provincial. See Collector's Illustrated Encyclopedia, pg. 264, #6. About 3¼" tall. $10.00 each

American Musket Tool - Simple iron blade with decorative twists and pricker end. Not a copy of any particular artifact but is typical of the period style and workmanship. About 3¼" tall. $8.00 each
Musket Cleaning Worm - Sold out

Mainspring/Hammer spring vise. This vise has an authentic 18th C. appearance. $20.00 each

Hammer Stall - Brown Bess or Charleville $10.00 each. Made of leather with matching thong. The free end of the thong is slit for inserting onto the musket swivel or can be tied to the swivel or trigger guard. Available in black, natural light brown (pictured), or buff leather. This item is sometimes called a "Frizzen Cover" (Frizzen being a term used in 18th C. civilian context). You may have heard of the pile of original buff leather hammer stalls found in an Austrian castle, a russet leather Prussian example in a Russian army museum, and those depicted in the Morier's British Grenadier Guards painting c.1751. I'm working to replicate these, and should have them by Autumn 2017.



Flash Guard - for the Brown Bess musket and made of plain steel to match the lock. Like other flash guards, this mounts with the hammer (aka frizzen) screw, but this flash guard has an extension at the rear that rests on the top of the lock plate right behind the pan. This prevents the flash guard from swinging down and exposing the pan. If your musket is like mine, if I tightened the screw enough so the flash guard wouldn't pivot up-and-down as I fired and reloaded, the hammer wouldn't open when struck by the flint. With this flash guard you can keep that screw loose enough so the hammer will open, and the flash guard will stay in place. If your musket stock wood touches the back of the lock pan, you will have to remove a sliver of wood to make room for the flash guard extension so it can rest on the lock plate. $8.00 each.
Hammer stalls and flash guards are authentic and did exist in the 18th Century. Regarding hammer stalls, Cuthbertson wrote "...On Service, leather Hammer-stalls are undoubtedly an advantage to a Battalion, when loaded, and resting on their Arms, as accidents may be prevented by having them fixed upon the hammers of the Firelocks..." The following are orders for the Royal Artillery Regiment, issued at Philadelphia on 2 June 1778 in anticipation of the march to New York which culminated in the Battle of Monmouth. "It is left to their [officers] discretion in time of real Action to disencumber such men as they may think proper entirely of them [arms], taking care that they be lodged in their Ammunition Carriages and to prevent any possible Accident happening therefrom, thumb stalls have been ordered to be provided which the men are constantly to keep on the hammer of their pieces except when posted centrys." Source: Great Britain, Royal Artillery Regiment Library, Woolwich, Brigade Orderly Book, James Pattison Papers.
Musket Parts - I don't have them, but a source for Brown Bess parts (Japanese and Italian), and Charleville parts is Paul Ackermann www.ackermannarms.com. Paul can make repairs to ramrods and bayonet lugs, tune and repair locks, hone barrels and crown muzzles, repair and refinish stocks, and reharden hammers (frizzens). Paul is a 1st New York member, and the West Point Military Academy curator of arms, and can be reached evenings at 845-658-9248. Paul recently acquired the stock of parts and kits from the family of the late Ed Woodland. As you may know, the mainsprings on newer Italian Brown Bess are awful, but replacements are available. The older Italian Bess mainsprings can be replaced, but it takes drilling and filing to make the replacement springs fit. This is not something you can do in the field. Paul does not sell individual parts because they rarely drop in and fit without some adjustments. There were two variations on the Japanese Bess's and at least three variations on the Italian Bess's which compounds the challenge in finding replacement lock parts that will fit. So if you send Paul your lock he can replace the mainspring, feather spring, and hammer for a very reasonable price, and make spares for your lock.
Jim Casco (Whitcomb's Rangers) now has Japanese Brown Bess hammers (aka frizzens), hammer springs, sear springs, and main springs. Jim's email is caspar@vermontel.net and phone 802-235-2457. Jim also has parts for the older Italian Bess's and is making springs out of real spring steel for about $50, as opposed to the awful springs on the new muskets. Jim can also do repairs, tune-ups, and restoration work. If you don't know Jim by name, he is the fellow who brings the proof and armory stamps to events.
Musket Sling - for Brown Bess and Charleville muskets, fusils, and carbines. Prices range from $17 to $35. When pointing towards each other, sling swivels on muskets are generally 26 ½" apart but this often varies thus I need your measurement for a proper fitting sling. As a practical matter I've found that slings without buckles, or slings with buckles but without tongues, are the easiest to use and may be more authentic as very few period image show a sling with tongue holes. The photos of the buff leather slings shows the leather whiter than usually available. Buff leather ranges in color from off-white to straw color due to the oil and sulfer used to tan the leather. Leather slings are 1 3/8" (35mm) wide.
Slings are not stock items, but made in batches every three or four months for the orders that I have. All the stitching is done by hand, not by machine. One of the reasons for the delay is that my workbench isn't often clear so I can lay out hides of leather and cut straps. Also freshly tanned buff leather off gas sulfer, so these hides needs to air out a few months. While the sulfer isn't potent enough to be a hazard, it is enough to turn shiny brass buckles black in short order. So if you need a sling right away please look elsewhere.
As of June 2017 I am no longer accepting musket sling orders. I have a backlog going back into 2016 and with Debra's death and my mourning/grief I simply don't have the energy to get these made.

A - My "EA", a double D brass buckle stitched to end of sling. No tongue on buckle, the friction of the thick leather against the buckle holds the sling in place. This sling is shown in numerous period images, especially the David Morier paintings of the British infantry in 1751. Black or Natural Brown leather $25.00 . English Buff leather $30.00

B1 - Same as sling A above, but the "EA" buckle has an iron tongue and sling is pierced with holes for the tongue. Because of the iron tongue, this sling is difficult to use and is perhaps why so few are seen in period images. If you really want a sling with the EA buckle and iron tongue, consider the two-piece sling F shown below. Black or Natural Brown leather $25.00. English Buff leather $30.00

B2 - Same as sling B1, but with my "EX" D buckle with iron tongue. Black or Natural Brown leather $25.00. English Buff leather $30.00

C - My "EA", a double D buckle that slides along sling, as pictured in David Morier paintings of the British infantry in 1751. Buckle can be easily removed to polish buckle and pipeclay the leather. English Buff leather $ 25.00
Cuthbertson recommends that, "Slings without buckles are lightest, and most convenient to the Men at exercise..." The three slings below (D, E, and G ) are made without buckles.

D - This sling is and based upon an original in Scotland. A leather loop, or keeper, holds the sling to the desired slack. When tight, a small strap at one end of the sling is fastened to a leather button at the other end of the sling. Black or Natural Brown leather $30.00. English Buff leather $35.00

E - This sling is on the Charleville displayed at Brandywine State Park. Similiar to sling D above, but without the button/small strap, and this sling has a second leather loop/keeper to keep the sling in the desired position. This sling will fit either a Brown Bess or Charleville. Black or Natural Brown leather $25.00.
English Buff leather $30.00

F - A sling made with two pieces of leather which allows the "EA" buckle with iron tongue to work with greater ease. Black or Natural Brown leather $25.00. English Buff leather $30.00
G - A non-functional sling made with one loop of leather with ends that button together. This sling is a copy of an original on a 71st Regiment musket on display at Saratoga National Historical Park. This sling conforms to Cuthbertson's recommendations regarding slings that "...they should be always drawn extremely tight, to add a greater sound and briskness to principal [sic] use of them, since the slinging of the firelock has been abolished from the British Army." Black or Natural Brown leather $30.00. English Buff leather $35.00

Hemp Webbing Musket Sling - The Continental Army had chronic supply problems with items made of leather, such as cartridge boxes, shoes, and shoulder carriages. This is documented in Gen. Washington's writings and is the reason his army was at times supplied with tin cartridge cannisters, shoes from France, and hemp webbing shoulder carriages for the cartridge boxes. Most surviving American muskets do not have sling swivels, so musket slings were probably among the items with a low priority. For those muskets with slings it is likely that webbing would be used so that leather could be set aside and used to make more important items such as cartridge boxes. I am now making a hemp webbing musket sling for Continental Army troops. This sling is 1¼" wide and has my brass EB buckle. The buckle is hand sewn to the webbing and the tautness of the sling is easily adjusted with this buckle. The end at the trigger guard is held in place with the provided linen cord. $20.00