Musket Sling C
Has a Double 'D' (my #EA) brass buckle that slides along sling,
as pictured in Morier paintings of the mid-18th Century.
Buckle can be easily removed to polish buckle and pipeclay the leather.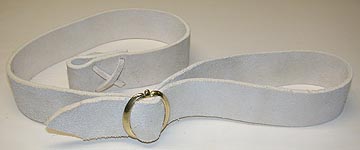 Sling is 1 5/16" wide and is available in Black, Natural Brown,
or English Buff leather.
Roy@Najecki.com
(before calling or emailing me, please read the FAQ or Ordering Information page
because most of the questions I get are answered on those pages)

Copyright ©2017
This site is maintained by Debra
First launched 5-9-91.