Musket Sling D
Without buckle. As recommended by Cuthbertson (pg.100, XXVI),
"Slings without buckles are lightest, and most convenient to the Men at exercise..."
and based upon an original in Scotland. A leather loop, or keeper, holds the sling
to the desired slack. When tight, a small strap at one end of the sling is fastened
to a leather button at the other end of the sling. This sling is made to fit a Brown Bess
with 26½" between the sling swivels. If you have a different measurement please advise
with your order and I will make the sling to fit your firelock.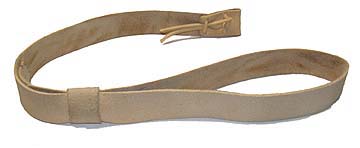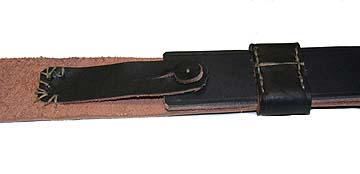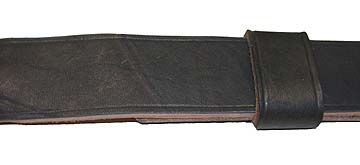 Sling is 1 5/16" wide and is available in Black, Natural Brown,
or English Buff leather.
Roy@Najecki.com
(before calling or emailing me, please read the FAQ or Ordering Information page
because most of the questions I get are answered on those pages)

Copyright ©2017
This site is maintained by Debra
First launched 5-9-91.