Sword Parts
These parts are from 18th C. swords owned by William McMillan,
former curator of Richmondtown Restoration village on Staten Island.
Parts #14, 15, 16 & 17 are from a civilian sword and as such fit together.
Upon request, these parts can be cast in solid sterling silver at additional cost,
which may be five times the cost of brass,
or cast in white bronze (aka jewelers bronze or German silver) at about twice the cost of brass.
All these parts are made in Rhode Island.
Move pointer over image to open it in a separate window.
Sword parts are sold as raw unpolished castings, often with casting sprues as seen on these photos.
To order items on this web page click on this PDF icon and follow the instructions on the top of the page.


Sword Parts Order Form

#14 - Counter Guard, 4" high x 3" wide. $32

#15 - Quillon & Knuckle Bow, 4¾" high x 4" wide. $55

#16 - Grip, 3" tall x 1" diameter. $22

#17 - Urn Pommel, 1½" tall x 1" diameter. $16

#20 - Oval Pommel, 1¾" tall x 1" diameter. $18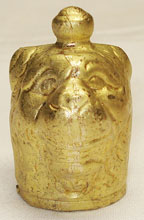 #27 - Dog Head Pommel, 1½" high, for 7/8" diameter grip. $20

#28 - Open Work Guard & Knuckle Bow, used on horsemans sabers. 9 ¾" overall length x 2" wide. $95

#29 - Bolster/Collar, ¼" tall x ¾" diameter. Used as a reinforcing band on horn and wood grips. $6

#46 - Shell Guard, used on hunting swords. 3" long x 2½" wide. $22
Back Home
Roy@Najecki.com
(before calling or emailing me, please read the FAQ or Ordering Information page
because most of the questions I get are answered on those pages)

Copyright ©2017
This site is maintained by Debra
First launched 5-9-91.