Miscellaneous Brass Items
Upon request, most items can be cast in solid sterling silver at additional cost.
All these items are made in Rhode Island.
Click on images to enlarge them in separate windows.
To order anything on this page: click on this PDF icon and follow the instructions on the top of the page.

Order Form.pdf, file size 125 kbs.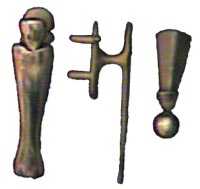 Bayonet Scabbard Parts:
"HB" - Scabbard hook (locket or clip) from original found near Fort Ticonderoga, 1¾" tall, $8
"HC" - Scabbard chape (tip), 1" tall, $5
"HA" - Sword Scabbard Hook, 2" tall (larger than "HB"), $11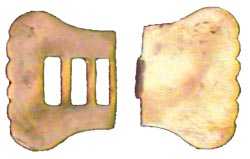 Neck stock clasp set - from originals found on Staten Island. $16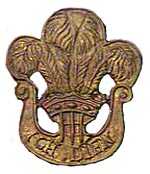 23rd Foot, Royal Welch Fusiliers trivet. Has four lugs on reverse side. Measures 5" x 6". $50

"KEY" - Escutcheon plate based on various styles found at Fort Richmond and other sites. It may have been used as a cartridge box decoration. $10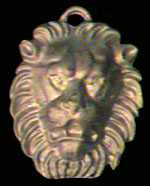 Lion head medallion, $15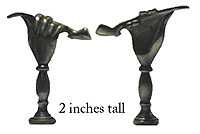 Pipe Tamper, to tampen tobacco in a clay pipe, 1¾" tall. $15 Pictured in Artifacts of Colonial America by Ivor Noel Hume, pg. 311.

"WF" Watch Fob, $6
Sterling Silver or Gold plated, $7
Back Home
Roy@Najecki.com
(before calling or emailing me, please read the FAQ or Ordering Information page
because most of the questions I get are answered on those pages)

Copyright ©2017
This site is maintained by Debra
First launched 5-9-91.